Resources and Tools

Included in the Book Marketing Recipes for Success you'll find a collection of our best tracking sheets!
The Six Most Important Things To-Do List
Your Productivity Accelerator
The Master Brain Dump System
Someday Maybe Projects
Ways to Improve Tracking Sheet
Your Reading and Learning Tracking System
Plus You'll Receive These Very Special Bonus

Bonus #1 - Signed Copy of D'vorah's Book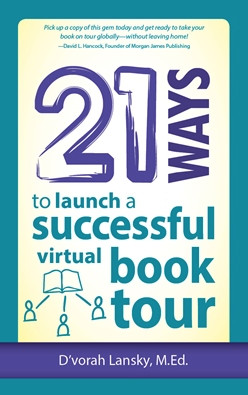 Receive a signed copy of D'vorah's bestselling book, 21 Ways to Launch a Successful Virtual Book Tour.

This guide is packed with actionable tips to help you to get your book, journal, course and/or business noticed by new audiences across the globe!

Choose between a digital or physical copy. Physical copies will be shipped anywhere in the U.S.


Bonus #2 - 75 Pages of Tips & Training from the Book Marketing Gazette